Commercial Moving Services
Trusted Office Moving Company in Houston
Business, office moving and relocation services in Houston, Texas are our expertise as we help businesses of all sizes to move in a safe and economical way. We are a professional licensed and insured commercial moving company serving Texas and the Lower 48. Eurmove, based out of Houston, can move your commercial assets across states in a short time with safety so your commercial move is smooth and easy.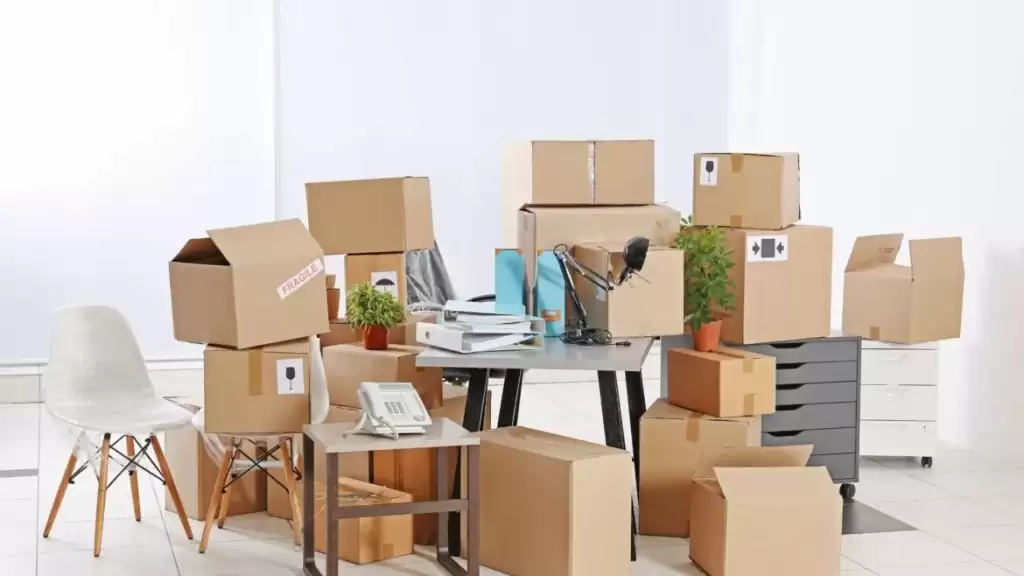 Commercial Moving Company Houston
If you are looking for commercial moving services in Houston, Texas for your next office relocation, then you have our comprehensive turnkey relocation services to choose from. With over a decade of experience in commercial relocations serving businesses in the Greater Houston area, we can help you with any of your specific business moving requirements.
Our Comprehensive Commercial Moving Service in Houston, Texas Includes
Office Moving in Houston
Moving an office doesn't have to be stressful when you work with experienced commercial moving companies in Houston. We can take care of your complete office moving needs from packing to shipping to unpacking within a short period of time. Our office moving experts will work closely with your team in carefully planning the move to ensure everything is well planned within the timeline. Our office moving service includes moving office desks, furniture, computers, electronics, and other technology equipment so they arrive in the same condition as when it was packed. We also assist in workspace restoration, so everything is delivered per the plan.
Premier Commercial Moving Companies in Houston
Eurmove is experienced in moving facilities such as retail shops, hospitals, and industrial manufacturing plants. We have the necessary equipment to facilitate this smoothly so your operation's downtime is minimized. As commercial and corporate movers in Houston, we can move your existing setup to the new location by working closely with your team per your schedule.
What Our Customer says
"Great team over at Eurmove! They quoted me a great price but actually spent less time moving so the final bill was less than the quote! Great experience!"

Matt Elwell
"Best movers ever!!! They moved all of my business equipment and put it in storage and I wasn't even there to check them in!!!! Thanks"

Dennis Statz
"The guys just moved my office. They were on time, very professional and did a wonderful job. Moved everything in the new building just where it went. Would recommend them for any moving need!"

Denise Davis
How Does a Commercial Moving Process Work?
Many of our customers looking for a commercial moving in Houston tx don't know where to start. We have streamlined our processes to help deliver the highest quality to our customers looking for corporate relocation services in Houston, Katy, Sugarland, and surrounding areas in Texas.  We take pride in executing commercial moves with the highest safety standards, so our customer's assets arrive in the same condition as it was packed. Our detailed process of commercial moving in Houston has multiple stages.
1. On-Site Survey for Commercial Move in Houston
One of the first steps in planning a commercial moving in Houston is to gather information, first about your own facility and secondly about the facility into which you will be moving. One of our commercial moving in Houston specialists will visit your commercial facility to assess the size, type of assets, and your specific requirements for the move. We work closely with our customers in completing the site survey including reviewing floor plans, type of packing, and additional services required.
2. Estimate for Commercial Move in Houston
After the site survey, we work on giving you a detailed estimate for your commercial relocation typically within a day.
Get a free commercial relocation estimate in Houston by simply filling out our online form
Depending on the size of your office relocation you will get a detailed estimation of the relocation service costs. Our estimates for commercial moving in Houston and outside Texas include several things such as actual weight, distance, square footage, special packing needs, and specific requirements.
3. Contract Sign Up for Commercial Relocation Service in Houston
Once you understand the estimate including the scope of work, a contract is finalized and signed on the agreed price and terms. A signed contract reserves our crew and truck fleet for your commercial moving, so you are protected from any delays. This is an important step and before deciding you may want to check with the Better Business Bureau about professional relocation and moving service companies.
Eurmove has been awarded for our excellence in relocation services by Better Business Bureau (BBB) as Winner of Distinction.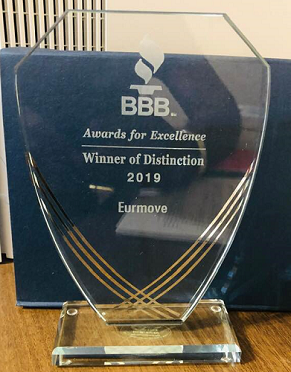 4. Planning Commercial Relocation Service in Texas
Good Planning is critical to any commercial moving in Houston, Texas. We at Eurmove strongly believe in it so our professional moving experts visit your facility to carefully build a plan that includes how the items are going to be disassembled, grouped, packed, and loaded. We brainstorm any potential problems we may encounter and work out the necessary solutions. During this stage, we establish close contact with your nominated team within your office or facility who can assist with the planning. We discuss our plans with the customer and keep them posted.
5. Packing and Loading for Commercial Relocation Service In Houston
Protecting your assets during the commercial move process is important so we have invested in packing equipment tools and accessories. We have the tools to pack items in different boxes and crates using appropriate high-quality packing materials such as foam, bubble wrap, and cloth. We ensure your delicate belongings are packed properly in special crates so that they arrive safely at your new destination. With our trained and experienced team, our commercial, office movers in Houston will ensure minimum downtime for your business. Your office furniture may be grouped and color-coded to make it easy with your office to move to and from Houston.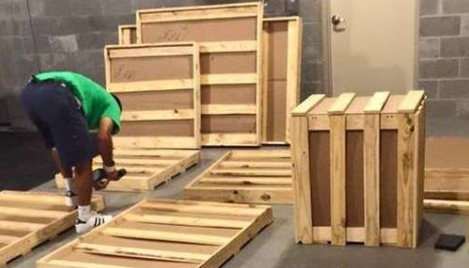 Furniture and other items are typically wrapped and protected from potential scratch and damages during your commercial move in Houston. We understand the importance of getting your products loaded and unloaded quickly and without damage. We have the necessary equipment and manpower to get the job done right. Lifting heavy items can present special challenges and that is why we have invested in lifting tools, hand trucks, and flat dollies. We also provide unpacking, disassembly, and reassembly of furniture.
6. Transporting Office and Facility Assets in Houston, Texas
Transporting the office and facility assets in a safe and timely manner is our core objective. Our truck drivers are trained and experienced in moving so they deliver the assets in the same condition as it was packed. We have regular updates on where the truck is and follow a well-planned route to transport the assets. At Eurmove, a trusted office moving company – commercial moving is made easy with our trained crew who make sure that your items reach on time at the right destination, without any damage.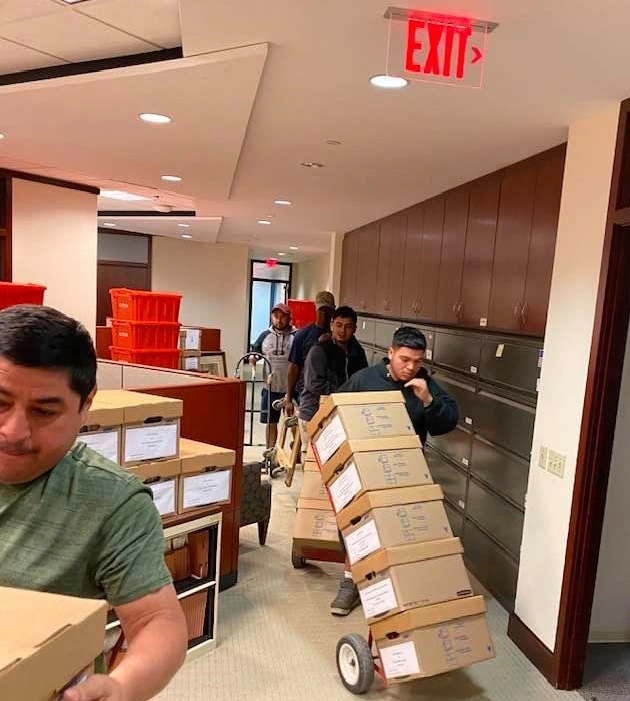 7. Unloading and Unpacking Commercial Move in Texas
Once our trucks arrive at the destination site, our experienced crew takes care of all the unloading work. We move the boxes and larger items per the plan in the designated areas so that it is easy to set them right. After unloading is completed, we do a walkthrough with the nominated moving representative and go through the packing list to make sure every item that was packed and transported has been delivered.
We can unpack your boxes, crates, and large items so it can save our customers lots of time and extra work. This also helps to see every item arrived in good condition and nothing was damaged during transportation.
Plan your commercial move in Houston with us. We can take care of your complete office moving and relocation requirements in Houston as well as for long distance moving.
Areas We Serve
We Provide Commercial Moving Services from Texas to Below States
Maryland | Alabama | Massachusetts | Arizona | Michigan | Arkansas | Minnesota | California | Mississippi | Colorado | Missouri | Connecticut | Montana | Delaware | Nebraska | Florida | Nevada | Georgia | New Hampshire | New Jersey | Idaho | New Mexico | Illinois | New York | Indiana | North Carolina | Iowa | North Dakota | Kansas | Ohio | Kentucky | Oklahoma | Louisiana | Oregon | Maine | Pennsylvania | Rhode Island | South Carolina | South Dakota | Tennessee | Utah | Vermont | Virginia | Washington | West Virginia | Wisconsin | Wyoming
FAQs
Protecting your assets during the commercial move process is important so we have invested in packing materials, equipment tools and accessories to ensure that building walls and flooring are protected.
Yes, we do. We are a professional licensed and insured commercial moving company serving in Houston, Texas area.
The best time to move your business would be after working hours on weekdays or on holidays to reduce downtime in business.