Relocating to a new city or state can be an exciting experience. However, the relocation process itself can be tedious. Choosing the right moving company can help take care of a major portion of the stress off your plate. With a reliable and experienced moving company, you can trust that your belongings will be handled with care, transported safely, and arrive at your new place. Here we share tips on how to choose the right moving company to make your moving experience as effortless and as relaxing as possible.
7 Essential Tips for Choosing the Perfect Moving Company
1. Check for Business Licenses and Accreditations
The first step in choosing a moving company is to verify if they have the proper licensing and accreditations required by the state or federal government, for example, US DOT number, FMCSA, DMV. A licensed and accredited moving company is guaranteed that they follow the industry standards and regulations.
Moving experience can indicate the level of expertise and professionalism of the company in moving services like local, long-distance, and interstate moving. Hiring a moving company with a long history of successful moves is likely to have a better understanding of the moving process, as well as a proven track record of providing quality service to their clients. This will give you peace of mind when entrusting your belongings to the care of strangers.
3. Get Free Estimates and Compare Prices
To get the best price on your move, ask for estimates from several moving companies. Compare each company's price and services before choosing one that offers both great value and a hassle-free experience. Be sure to inquire about any potential hidden costs or fees that may be added onto your bill at the end of your move! Ensure a written estimate from the moving company, and don't rely on verbal ones.
Check for the types of moving estimates:
Binding estimate – A fixed price based on the weight of your items and the distance they will be transported.
Non-binding estimate – A rough estimate of the cost, which can change based on the actual weight of your items and the services provided.
4. Read Reviews and Check Ratings
Consider examining client reviews that highlight specific aspects of the moving process, such as packing, loading, transportation, and unloading and assessing the moving company's ratings on trustworthy sites like Yelp, Google, and the BBB in order to make an informed selection. This will give you a clear understanding of their quality of service and reliability.
5. Check for Additional Services
Some moving companies offer additional services that can make your move easier and more convenient. For example, some companies offer packing and unpacking services, furniture disassembly, and storage options. Make sure to ask about these services, so that you can opt for the services as per your requirement.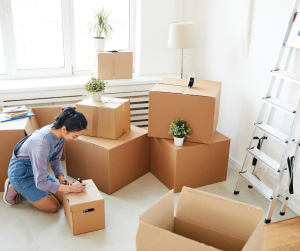 6. Avoid Making a Large Deposit
Reputable moving companies won't demand a large deposit or payment upfront. Be cautious of any company that asks for a large deposit before the move. If you pay upfront, you cannot guarantee when you will receive your items. To safeguard yourself from potential fraud, it is advisable to pay with a credit card.
Before the move, make sure you have a contract in place that outlines the terms and conditions of the move. Ensure the contract covers all fees, insurance, list of your belongings, pick-up and delivery dates and dispute resolution. This will help avoid any confusion or misunderstandings on the day of the move.
By following these tips, you can ensure that you find the best moving company that is reliable and provides quality moving services for your needs. Take the time to do your due diligence and ask the right questions so you can find the right moving company for you. Whether you are moving across the state or across town, you will be better prepared than ever to enjoy an efficient and enjoyable move.