Summer is one of the busiest times of the year for moving because kids are out of school and the weather is good for moving. However, it's also a time when moving costs can increase and the demand for professional movers can skyrocket. With the high demand for moving services in summer, it's important to plan ahead and take steps to ensure a smooth and successful move. In this blog post, we'll share 12 tips for summer moving that will help you stay organized, save money, and reduce stress.
12 Essential Tips For Moving During Peak Moving Season
From making a budget to packing efficiently and staying cool, these tips will help you navigate the challenges of summer moving and make your transition to a new home as smooth as possible. So, whether you're moving across town or the country, read on to find out our top tips for summer moving.
1. Create a Budget for Your Summer Move
With summer being the peak moving season, costs can be higher. Plan your budget accordingly and factor in any additional expenses that may come up.
Make a list of all the expenses you'll incur during your move, including hiring professional movers, renting a truck, buying packing supplies, and any other related costs. Be sure to allocate enough funds to cover unexpected expenses keeping in mind that your budget may fluctuate as your needs change during the moving process.
2. Compare Costs and Companies
Before choosing a moving company, compare the costs and services of several different companies to ensure you are getting the best deal for your summer move. Look for companies with good reviews and a reputation for quality service. This will help you choose a reliable and affordable moving company that can handle your specific needs and ensure a smooth summer move.
3. Hire Trustworthy Professionals
During peak season, moving services are highly sought-after, which novice movers are aware of and may exploit as they launch short-term moving services. Be vigilant for fraudulent companies that aim to swindle you out of money without providing any actual services. It's advisable to opt for reputable, highly-rated, and certified moving companies that you can rely on.
Summer is the busiest time for moving, so it's important to book your moving company as early as possible. This will ensure that you get the best professional moving company and the best deal to choose from. If you wait until the last minute, you may end up paying more or not getting the services you need.
5. Make a Summer Moving Checklist
Creating a checklist can help you stay organized during your summer move. List all the tasks you need to complete, such as packing, coordinating with your moving company, and updating your address with your bank and other important service providers. Include any summer-specific tasks such as preparing your summer gear, disconnecting your grill or pool, and packing sunscreen and insect repellent. Check off each task as you complete it to keep track of your progress.
6. Sort Belongings Before the Move
Moving is a great opportunity to declutter and get rid of items you no longer need. Sort through your belongings and decide what to keep, sell, donate, or throw away. This will not only reduce the amount of stuff you need to pack and move, but it will also help you start fresh in your new home. Take advantage of summer sales and online marketplaces to sell unwanted items or donate them to a local charity.
Packing can be a time-consuming process, so it's important to start early. Begin with items you don't often use, such as seasonal clothing or holiday decorations, and items that you won't need until after the move, such as summer clothes, beach gear, and outdoor equipment.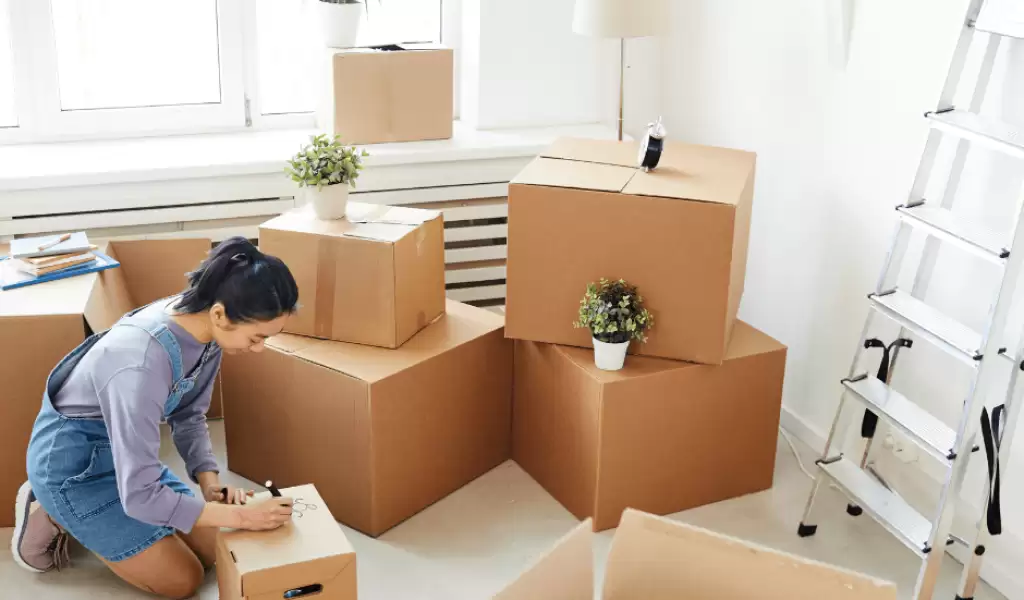 8. Make Time for the Move and Request Time Off Work
Moving can be stressful, so it's important to take time off work to focus on your move. This will give you time to pack, coordinate with your moving company, and settle into your new home. If possible, take a few days off before and after your move to reduce stress.
9. Start Early in the Morning
Summer heat can make moving difficult, so try to move big things early in the morning to avoid peak temperature during the day, and speak to your movers about doing the same. Also, try to do as much of your packing and moving prep inside as possible. 
Extreme heat can be damaging to your belongings, especially items that are sensitive to temperature changes. To protect your things from the heat, avoid leaving them in direct sunlight or a hot car for extended periods of time.
Summer weather can be unpredictable, so be prepared to adjust your plans if needed. Be prepared for any unexpected events like rainstorms, bad traffic, or a late start.
11. Arrange for Utility Services for Your New Place in Advance
Before you move, make sure to arrange for utility services at your new place in advance. This can include setting up electricity, gas, water, and internet services. Doing this early can ensure that you have these services when you need them and that you don't have to deal with any delays or interruptions.
12. Be Proactive About the Heat
If you're moving during the summer, it's important to be proactive about the heat. This can include taking frequent breaks, drinking plenty of water, and wearing lightweight, breathable clothing that will keep you cool and comfortable. Avoid wearing heavy or bulky clothing that can make you feel hot and uncomfortable. Don't forget to wear sunscreen and a hat if you will be spending time outside.
Moving during the summer can present unique challenges, but with these tips, you can stay cool, comfortable, and organized throughout the process. Remember to book early, stay hydrated, and protect your belongings from the heat, and your move is sure to be a success. 
If you're planning a summer move and need professional moving assistance, contact us today to learn more about our services and how we can help you make your move a success. Our team of experienced movers is here to help you every step of the way. Happy moving!